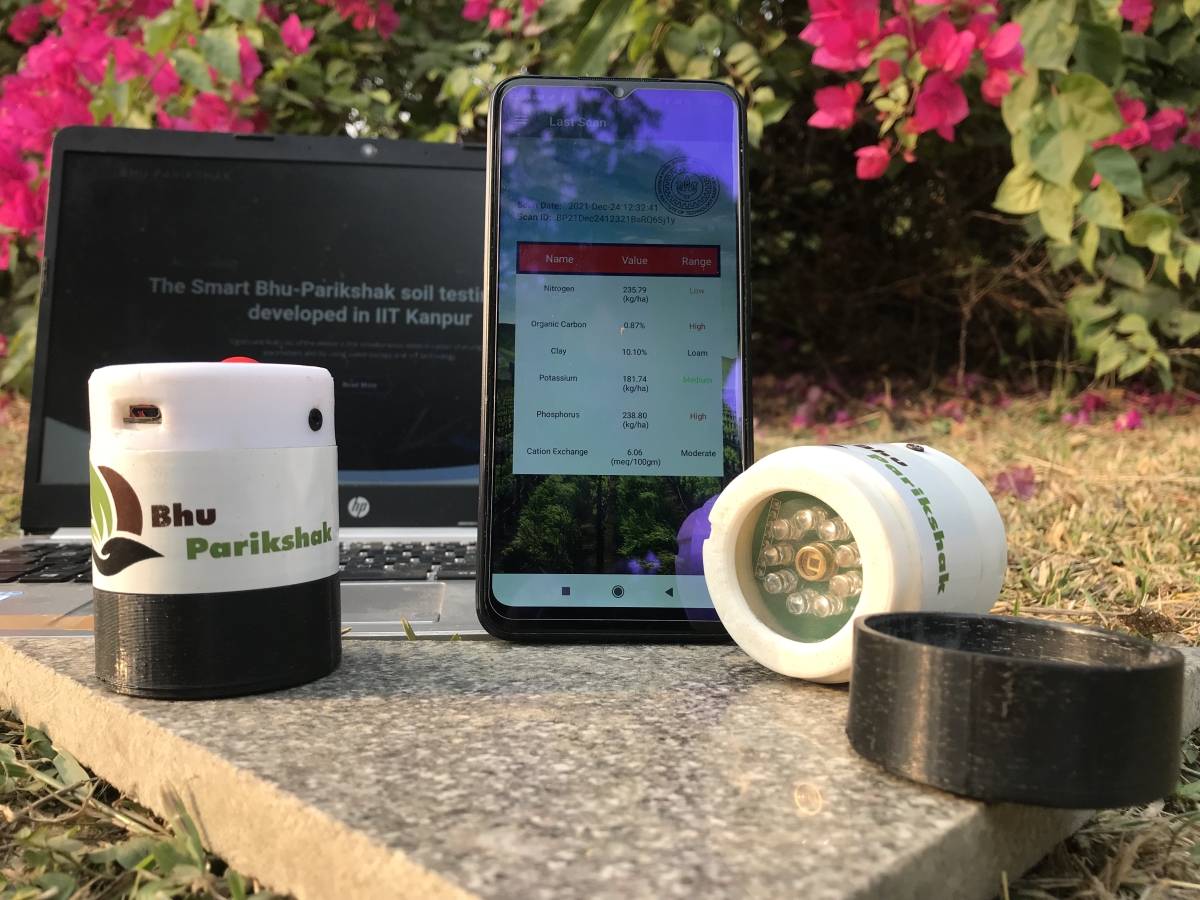 भू परीक्षक (Bhu Parikshak) V 2.0
The Smart Bhu Parikshak a rapid soil testing device based on IoT technology developed in CNIS lab. It is ligt weight and portable smart device for the determination of soil nutrients. The device is designed to provide on field real time soil analysis. The device having near infrared (NIR) spectroscopy sensors. It shows the result within 90 seconds on an android phone having a mobile application and can monitor the soil health and accordingly provide fertilizer and crop recommendations. It can determine multiple soil parameters simultaneously like Nitrogen (N), Phosphorus (P), Potassium (K), Organic carbon (OC), Soil texture (Clay) and Cation exchange (CEC). There is no requirement for prior sample preparation. It also has the facility to keep the record of previous analysis. It is a very low power device having battery backup which can analyse 120 soil samples in a single charge. However the predicted life of the Smart Bhu Parikshak is 5 years and it is capable of analysing 1 million samples. Overall it helps farmers in achieving better yield and thus, increasing their productivity and profitability
IIT Kanpur has signed MoU with AgroNxt Sevices Pvt Ltd to manufacture and deliver the product to the market.
Interested Farmers/ Individuals can contact AgroNxt Services for the Bhu-Parikshak. https://agronxt.com/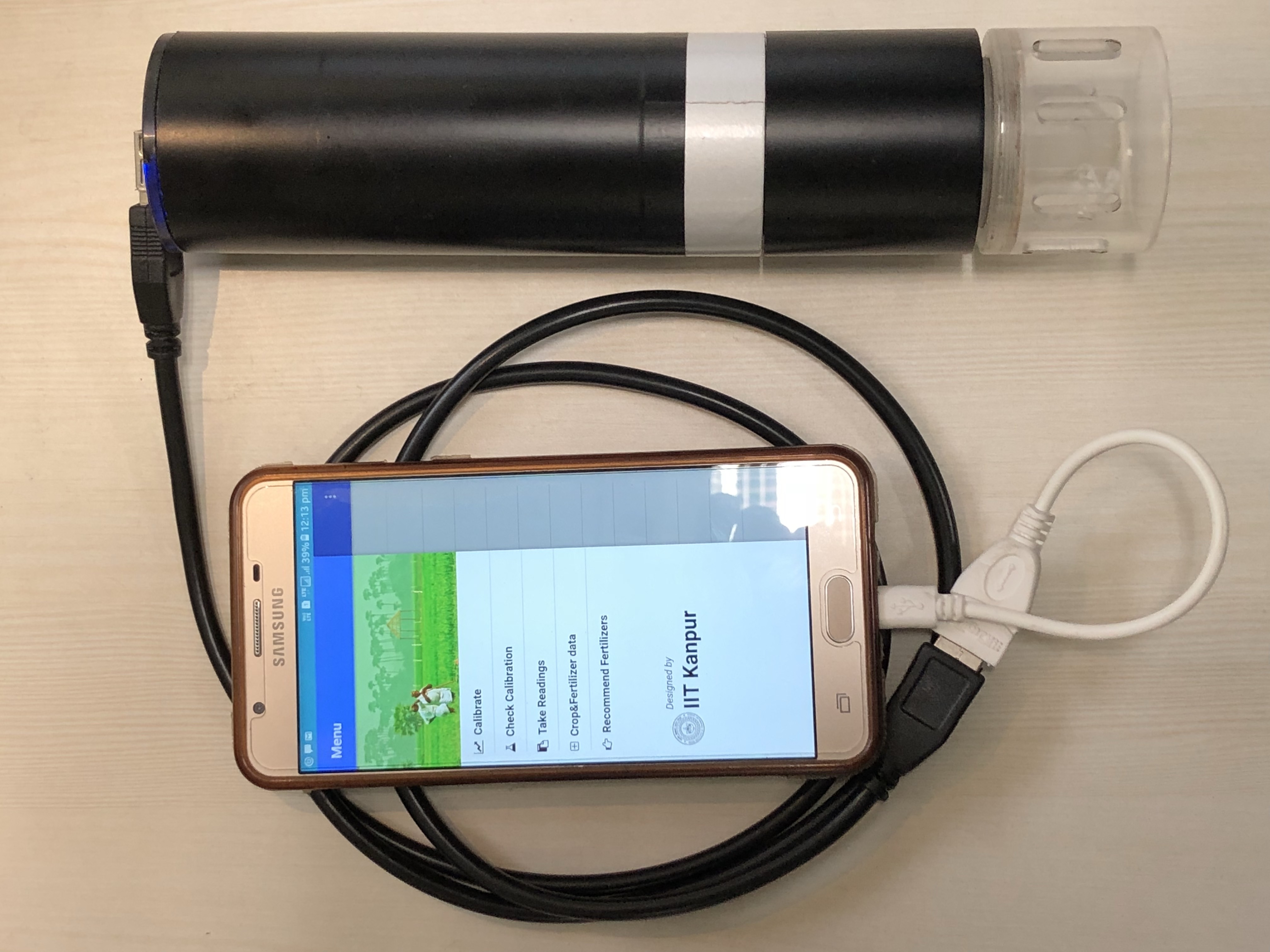 भू परीक्षक (Bhu Parikshak) V 1.0
Bhu Parikshak is a portable, handheld soil testing device developed in our lab that is capable of measuring the quantity of macro and micro nutrients present in the soil. This device is based on ion selective electrode technology and can be operated using android mobile via in- built Bluetooth module. Design of the device is very elegant and the ion selective electrode used in there is easily replaceable. It is designed keeping in mind the requirement of end users which we expect to be a farmer and thus it is very easy to use. To obtain the nutrient data user just have to dip the transparent bottom section of the device in solution made by dissolving the soil in water. An android application has also been developed to make tap the full potential of the device. The other features of the device include recommendation of fertilizer on the basis of nutrients present in the soil, farm size and crop, keeping the record of soil profile of the field, storing the crop and fertilizer data to optimize the recommendation on the basis of available fertilizers, low powered device and can be powered with mobile using an OTG cable.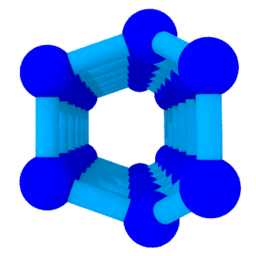 d-SEAMS is a collection of analysis tools for molecular simulations. We have developed a holistic set of packages in a novel framework for molecular dynamics simulation analysis. Our framework, works with the best practices of the scientific community and the software engineering industry. Our team has over ten years of development experience and uses the best aspects of functional programming with modular ease of extensibility. It has been implemented as a High Performance Cluster enabled engine in C++, with extensions via the Lua scripting interface. The code sheds light on the structures from simulation trajectories, in terms of their topology and it has been tailored for the analysis of nucleating systems. The framework is meant to be interfaced to a large variety of external tools and software, including R and other libraries. It is also the first and at-present only scientific analysis tool to use reproducible builds via nix. d-SEAMS is the first and only engine which is able to classify ice at all scales, from confinement to bulk, and uses cryptographic hashes for static reproducible dependency graphs.
MIST is a general-purpose classical simulation software. We have developed C++ object-oriented programming software for doing various Monte Carlo simulations such as NPT, NVT, GCMC, TMMC etc. Monte Carlo simulation is clearly an efficient way to study gas adsorption, gas separation in nanoporous materials and phase diagram calculation. Hence the development is entirely focused on running simulations faster with minimum input details from the users. Our software is used along with machine learning models to predict the best materials from h-MOF database for ethane / ethylene separation.